Global Moped Sharing Market Report 2022 – Launch Event Recap
Summary
On November 8th, INVERS launched the 2022 edition of the Global Moped Sharing Market Report during a digital round-table panel. The report's co-author, Enrico Howe, discussed the report results and industry trends with Oriol Marimon-Clos Sunyol, Cooltra's General Manager for B2C, Paul van Merrienboer, the Managing Director of CHECK, and Bertrand Altmayer, the CEO of Cityscoot.
After an introduction to the report and its key numbers and trends, the panel discussed topics as diverse as loyalty programs, dealing with vandalism, working with cities, and profitability. The panel agreed that each market is unique and needs its own approach, that working closely with cities continues to be essential, and that there's great room for experiments and innovation in the space. Read on for their thoughts on these topics, among others, in the following panel recap.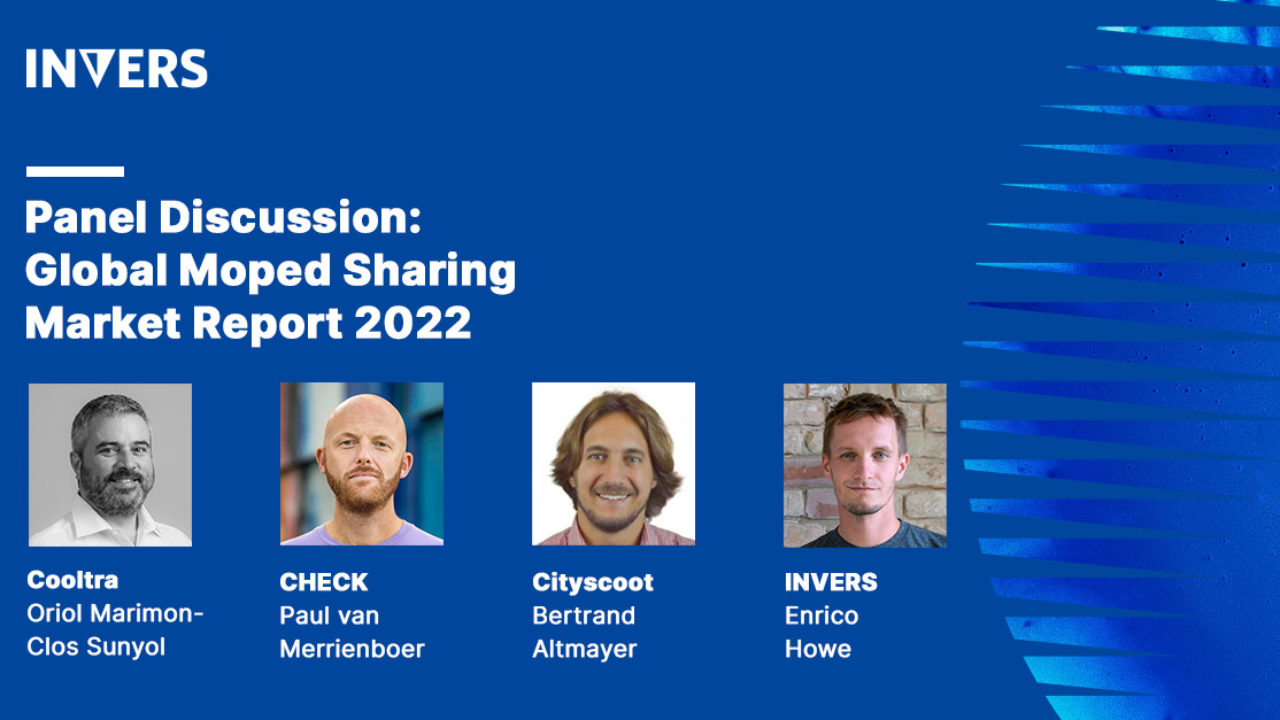 Starting off the panel with presenting the report key results, Enrico disclosed that around 130,000 shared mopeds, motorcycles and moped/bike-hybrids are currently on the road worldwide. It is estimated that there are 17 million registrations across the globe, an increase by 40 percent since 2021. At the same time, the number of cities that offer moped sharing increased by 25 percent to more than 220 over the last 12 months. Concurrently, the number of operators of moped sharing services increased by 8 percent to a total of 94 providers. Selected 2022 moped sharing trends identified in the report are as below.

The entire panel discussion was full of great insights, and worth watching in full. You especially don't want to miss out on the live audience Q&A section, where the panelists discussed diverse topics. Here we'll highlight three topics that came up during the main panel conversation:
Each market is unique
"Every city needs to be treated differently" according to Oriol Marimon-Clos from Cooltra, even within the same country. For example, Cooltra faces strong competition introducing e-bikes in Barcelona, despite already having great brand recognition due to its mopeds. However, the path to success may be different in a city without competition from existing, public e-bike services.
In the Netherlands, the third-largest global moped sharing market (see graph below), shared micromobility services operate in a culture and regulatory framework that has been used to two-wheelers. 58 percent of Dutch people use a bike at least twice a week, and their country has very extensive biking infrastructure. Also, Dutch regulations allow users to drive without helmets or driver's licenses on mopeds restricted to 30 km/h or less. This culture, rules, and infrastructure make entry into towns of 100,000 easier, according to Paul van Merrienboer.
On the other hand, French operators face greater difficulties outside the biggest cities. They may have a hard time convincing smaller municipalities that they require a certain minimum fleet size to reach profitability. According to Bertrand, there is a different level of experience with, and understanding of the shared mobility space and how it operates on the city authority level between a shared mobility leader like Paris, for example, and smaller French cities. All new and existing shared mobility operators need to take into account these unique city characteristics and existing.
Working closely with cities continues to be important
Cooperation with cities was discussed at last year's panel, and it remains at the top of operators' minds in 2022. More moped sharing markets are becoming regulated, evidenced by tenders in many Spanish, Italian, Dutch, or French cities. Other markets remain less regulated and lack tenders, but see increasing coordination between cities and operators.
When Cityscoot launched in 2015, there existed very little input and regulation from the cities. In Paris, for example, there were 40,000 kick scooters, which made navigating sidewalks in wheelchairs or with strollers difficult. Now, Bertrand reports that the relationship between Paris and operators is "much more structured," and many municipalities have "taken control of micromobility and sometimes impose the connection to the local MaaS (Mobility as a Service) platforms."
The next stage in the working relationship may be getting city authorities to be more aware of operators' needs. Not all tenders ensure profitability; smaller cities may lack experience to set up a win-win tender. However, the biggest moped sharing cities (see graph below) are sizable global metropolises with diverse governance systems within shared mobility. The European moped sharing market in particular is awaiting the Paris tender decision expected in early 2023.
The panel also mentioned working with cities to create and establish a shared mobility usage culture to minimize vehicle vandalism. Cities may want operators to cover under-privileged areas of the cities, while operators could point out that that's where their vehicles are most likely to incur costly vandalism damages. Paul mentioned working with cities to get security camera coverage on vandalism-prone areas as a possible solution here.
In the end, the main goal of the operators and the cities is the same: to get more people to give up their privately-owned cars, and into using public and shared mobility alternatives that are more eco-friendly. Both Paul and Bertrand mentioned similar surveys conducted by CHECK and Cityscoot that suggest their users are 20% less likely to own cars since signing up to their shared mobility services.
Our panelists went on to highlight the importance of effective communication and building long-term relationships with city authorities.
The leading operators are not afraid to experiment
While conducting interviews for the report, Enrico noticed a small change in operators' focus away from fast growth, towards profitability. This may be a sign of a maturing market, but the leading operators are still unafraid to try new things, as evidenced by the examples below.
Cooltra is diversifying its fleet with e-bikes, and is also introducing a private company sharing pilot. The pilot gives companies their own moped sharing fleet for the use of their employees and clients. The companies in the pilot define the service area and add users via invitation only. This new service lines up well with the sustainable mobility goals that many large European companies have.
CHECK's loyalty program not only encourages users to stick with their service, but rewards certain behaviors. Their "Coins" program gives users a free ride when they earn ten coins, and one way to earn coins is to rate how the previous user parked their moped. This community-based approach to encourage good parking has reduced parking complaints by half and increased user activity by 15%. Therefore, CHECK gets more riders and improves their PR, while enhancing their relationship with the city through this innovative approach.
Download our free 59-page report for further insights into the market, including additional operational topics and challenges that we covered in our interviews with international key moped sharing operators and experts.
For more information on profitability, trends in the French and Dutch markets, moped-bike hybrids, and changes in the market and user behavior over the last seven years, watch the entire panel discussion in the video above.