imove is a revolutionary player in mobility; the Norwegian start-up consists of green entrepreneurs, digital doers, and automotive enthusiasts. They provide a business-to-consumer car subscription service and a business-to-business technology platform that enables companies to offer car subscription as a service. With this business model, imove proves that sharing assets and technology is vital in providing more people with sustainable forms of mobility.
Flexible ownership with electric vehicles
Two key trends are shaping the future of mobility. First, consumers demand more environmentally friendly ways of transportation, and second, they want easily accessible digital services that seamlessly adapt to new needs and convenience-oriented lifestyles. A car subscription service provides the needed flexibility and bundles services that meet modern customers' expectations. imove offers electric vehicles that range from small city cars to larger long-distance cars, ensuring that various lifestyle needs are met. Their end-user subscribes to an electric car for an all-inclusive monthly fee, including unique features like access to a larger car, free mileage, at-home car delivery, and seasonal tire change at the customer's home, amongst others.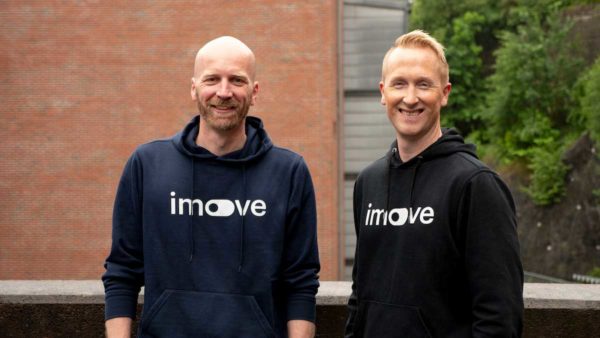 Gunnar Birkenfeldt (left) and Hans Kristian Aas (right), part of the founding team at imove, saw in 2018 that the demand for electric vehicles was growing in Norway, where fully electric vehicles account for over 75 percent of new cars sold in major cities, and the electric vehicle share is closing to 25 percent of the total car fleet in some cities.
Over the last decade, Norway has acquired unique hands-on experience of what it takes for a country to electrify the vehicle fleet, experienced radical changes in consumer behavior and worked out pioneer industry recipes to adapt and benefit from the electric revolution. Understanding that not everyone would be interested in putting aside 40,000 Euros for a personally-owned vehicle, they launched imove to give people the opportunity to use an electric vehicle at a subscription fee starting at 350 Euro per month, without the financial commitment that comes with vehicle ownership. Fast forward to today, and imove now has a team of almost 50 people and an expanding, diverse fleet of 1,000+ electric vehicles. imove continues to grow 20 percent month-over-month, which has allowed them to attract new investors to grow the business.
In July 2021, imove closed a 22 million euro Series A round led by the pan-European online car market, AutoScout24. VCs Norselab and Idekapital, Rothschild's automotive fund Vasuki 2019 and Norwegian state climate investment company Nysnø also joined. imove's existing owner, Hedin Automotive, also joined. The round consists of a new equity issue of 14 million euro combined with 8 million secondary sales of shares.
The recent funding and strong projections allow imove to accelerate its growth. Hans Kristian Aas said: "Amazing customer feedback, strong unit economics, and an industry ripe for change told us that the timing was right for pushing the 'Scale button.'"

Growing success despite growing pains
Like with any start-up, imove's success has not come without its growing pains. Running a business in a space as dynamic as shared mobility presented many opportunities for imove, but they soon realized that it was critical to prioritize and focus on key aspects of the business. For example, electric scooters were bundled with the car subscription service in the early days of imove to provide more mobility options to users. This proved to be too complex, so they focused on the core offering – car subscriptions.
imove also provides a white-label solution to other companies who want to offer car subscription as a service, opening the door for more players to provide mobility options to customers. The imove platform enables third-party players across industries like automotive, finance, insurance, electricity, and telecom to use their white-label technology to offer car subscriptions as an alternative to car ownership or leasing. Just recently, imove enabled the Swedish insurance company, Gjensidige, to launch their own car subscription service to their existing customer base. This cross-industry collaboration enables the market of car subscription as a service to grow.
Data is the key ingredient to success
To make car subscription as a service the new reality, imove relies on sharing solutions from INVERS. All vehicles are equipped with the INVERS CloudBoxx, an in-car IoT solution that enables app-based, keyless access to the vehicle, enhancing a seamless consumer experience. The telematics solution creates a digital twin of the vehicle allowing it to be controlled, monitored, and managed digitally. This twin can be used in many different applications, enabling developers to successfully implement innovative mobility concepts such as electric car subscriptions. In addition to reliable connectivity, vehicle access via smartphone was important to imove during the selection process, enabling the start-up to be innovative in its business design.

In addition, there are operational benefits to having telematics in every vehicle – more data. "The data-centric approach is the secret to our success," explains Hans Kristian Aas. "INVERS technology delivers a wide range of vehicle data, offering the most holistic and forward-looking solution on the market today."
imove has been able to gain insights on trips and driving behavior to bring more data-driven decisions to their car subscription operations. The imove platform offers more than 200 analyses to evaluate key fleet indicators such as utilization, financial performance, and customer fluctuation. Data has also allowed imove to improve the lifecycle management of vehicles to help determine if the car should continue to be used in a rental or be phased out to sell.
Growth plans for imove
There is constant demand for more mobility options, and imove aims to provide flexible ownership to people across Europe with their diverse fleet of electric vehicles. Next year, they hope to have close to 2,000 vehicles available to meet the growing need for reliable, convenient, and eco-friendly mobility options. At the same time, they aim to enable more companies to offer their own car subscription service, furthering their mission of helping to reduce the number of personally-owned cars on the road and make a dent in reducing greenhouse gas emissions globally.