Automated Rental Beyond Cars
Camping represents freedom and flexibility. However, the industry standard for renting a campervan is anything but seamless. Spontaneous bookings are rarely possible, there are fixed minimum rental periods, lengthy technical training courses are mandatory, and campervans have to be returned thoroughly cleaned at a set time. The founders of Roadfans were not satisfied with the status quo and launched Germany's first automated round-trip campervan sharing service in 2017. Roadfan's 500 campervans can be rented online and picked up and returned any day at any time at one of eight stations across Germany.
The idea for Roadfans came to founders Jan-Philipp Harmes and Joscha Stephan when they were planning a campervan trip together. One problem stuck out to them: short-term rentals were not possible and the vehicle had to be rented for at least 7 days. To make RV vacations easier for everyone, Harmes and Stephan founded Roadfans to offer a better campervan rental process. In the beginning, they used key safes to enable campervans to be picked up around the clock. However, the semi-automated process did not sufficiently meet their customer's needs. A better solution was needed!
Optimizing Operations with a Robust Solution
In 2018, the two founders began looking for a new tech solution. They wanted a solution that would let them further optimize the booking and rental process without impacting the ability to expand Roadfans' offerings in the future. With sharing technology from INVERS, the founders found the optimal solution that reliably enabled:
Real-time display of available campervans
Bookings completed in less than 2 minutes
Full automation of vehicle pick-up and drop-off
Keyless vehicle access
The goal was to provide customers with a quick and easy online reservation process to book and pay for their rental. To make this happen around the clock, any available campervan needed to be displayed in real-time and rentals needed to start without any physical key exchange. INVERS' telematics and connectivity solution CloudBoxx addressed all these needs. Now, customers can access their reserved vehicle 7 days a week, 24 hours a day – all through the Roadfans app.

Fast and Uncomplicated Integration Process
The founders were first won over by INVERS when they experienced the power of the CloudBoxx right at their own desk using the INVERS Development Kit. Testing the CloudBoxx in a vehicle, they were able to find a campervan and rent it at any time using the smartphone, a necessary value-add for daily operations and improved customer journey. The founders also appreciated the immobilizing feature, which provides them with peace of mind against potential theft.
Another advantage of the INVERS solution was its fast implementation. Thanks to the comprehensive installation guide provided by INVERS, the integration process was uncomplicated and could be taken over by Roadfans to do themselves. The short integration process allowed Roadfans to stay competitive in a fast-growing industry while delivering a unique customer experience to its users.
Vehicle-agnostic Shared Mobility Solution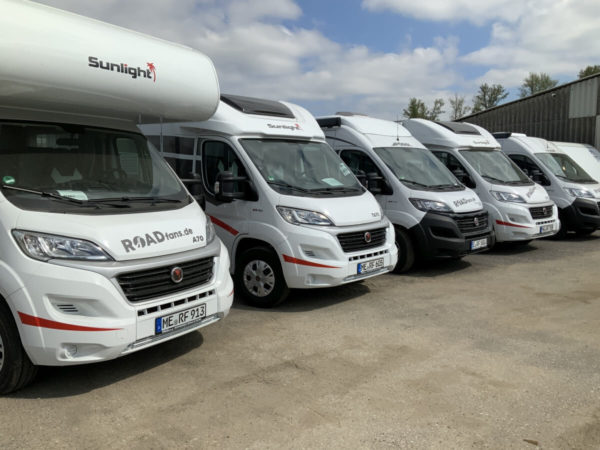 The success of Roadfans underlines the versatility of the CloudBoxx solution. With more than 70 already integrated vehicle brands, CloudBoxx reliably powers all vehicle types. If you want to start your shared mobility operation, whether it be with campervans, cars, mopeds, kick scooters or e-bikes, get in touch with us! We are happy to talk about what is possible with INVERS shared mobility technology.