How COVID-19 Impacted the Micromobility Stock Market
Summary
The pandemic has changed how people can move around, and that is reflected in the stock market among operators who are publicly listed. Despite seeing a drop in share value recently, signs indicate that the bottom has been reached, and micromobility stocks will be a long-term winner.
COVID-19 is shaking the global economy, and this encompasses the micromobility market. The use of shared kick scooters, bikes, mopeds, and also cars is heavily impacted by the ongoing crisis. Usage dropped significantly in most fleets and cities and continues to have economic implications for the industry.
This article is not a complete picture of the market but gives examples of a complex and currently very volatile matter. It analyzes the performance of micromobility-related stocks and what it can tell us about the past months, current state and possible future development.
The different micromobility sectors are not equally embedded into global stock markets
First, we need to determine which markets to consider when we are talking about micromobility stocks. Which sectors are we looking at? The listed companies are not equally distributed among operators, manufacturers and service suppliers. Additionally, the question is raised, which shared vehicle types are more traded at stock markets?
When looking at vehicle types, kick scooters are the least involved in global stock markets. The industry is heavily financed by global venture capital direct investments. One of the exceptions is Uber, which runs the kickscooter/bike operator Jump and is publicly traded. Other global sector heavyweights such as Bird, Lime, TIER or voi are not directly involved in stock markets. Scooter manufacturers such as OKAI or Segway-Ninebot are also not traded at stock markets.
Bike sharing faces a more diverse picture. The market is rather heterogeneous. It is more mature and looks upon a longer development history than the one for kickscooters. Some operators such as global free-floating giant Mobike or above-mentioned Jump are backed by large-scale parent companies, which are publicly traded.
In the moped sharing industry, many moped manufacturers are traded, such as NIU and Askoll (both top 3 moped sharing vehicle suppliers as of 2019), or global player Yamaha as well as emerging Vmoto. Operators are rarely traded, one exception is the Spanish conglomerate group Acciona, running Acciona Mobility in Southern Europe (Spain, Portugal, Italy).
Carsharing – though not a micromobility option – is quite involved in global stock markets. Free floating companies especially, are often held and run by large global OEMs.
For all mentioned industries, service suppliers for operations software, customer apps or hardware (IoT) are rarely publicly traded.
Considering the involvement of the different segments at global stock markets, this article looks at the performance of some of the above mentioned stakeholders. Selected car sharing stakeholders are added to the analysis for comparison.
Share prices dropped between 30% – 60% in between January and April 2020
The table below shows that selected (parent) companies which run or supply the kick scooter, bike, moped and car sharing businesses faced a strong share price drop between January and April 2020.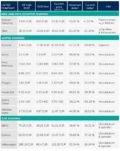 It becomes clear that the performance of European or North American companies have been impacted the most. Companies such as Uber or German OEMs experienced heavy share price drops. Companies which are headquartered and focussed in different regional markets saw less significant drop rates (Yadea Group, NIU, Hero Motocorp or Meituan-Dianping). Some of the above mentioned companies are conglomerate groups whose overall focus is on non-mobility markets (Meituan-Dianping or Acciona). However, their current and future economic performance in their core markets will surely impact the mobility-related subsidiaries. On top of the relative performance of the above mentioned extreme values (Q1 peak vs. maximum drop, see Tab. 2), an analysis of the performance over time can help to evaluate where we are positioned in the current crisis.
Most companies saw rock bottom around mid-March and have been stabilizing since then
Most of the analyzed companies saw a constant or growing share price performance in January, followed by a downturn beginning in February. In February, uncertainty due to the COVID-19 crisis started to hit the markets. Many of the listings saw rock bottom around mid-March. Since then, stock prices have stabilized or slightly improved over March and continued to do so during April. By the end of April, share prices for some selected companies started to recover by a substantial amount. For instance, Uber share prices went up last week after announcing recent economic performance and the further investment into Lime. Some stocks such as Askoll or NIU (almost) reached the price level as of the 2nd of January 2020. Yadea Group (tradable in relatively mild COVID-impacted Hongkong) and Meituan-Dianping even outperformed their best Q1 stock price by a substantial amount (as of 8th of May 2020).
To better understand the recent development, I visualized the relative stock performance over time for the exemplary market of moped sharing in the following graph.

Overall, the example of moped sharing vehicle suppliers shows that the massive downturn at the stock markets was stopped and stabilized and even shows optimistic signs of recovery. In mid-March, market uncertainties reached a maximum level.
Conservatively spoken, the market is still very volatile and a lot of uncertainty prevails. However, it has regained some trust lost during the crisis.
Hypothetically spoken, the recent uplift of share prices of selected shared mobility stakeholders indicates that the shared mobility sector will not only survive the current crisis but nourishes the hope that the sector could even become a long-term winner.
In a nutshell
The different micromobility vehicle classes are differently embedded into global stock markets. Most hardware and software suppliers, as well as operators are simply not publicly traded and are not directly impacted by the recent stock market crashes.
However, share prices of some sharing-related businesses dropped by 29-63% between January and April 2020 (in comparison to Q1 peak).
Since around mid-March, prices stabilized and first signs of a market value restoration can be seen. The moped manufacturers Yadea Group, Hero Motocorp and NIU as well as the Mobike parent company Meituan-Dianping were the best performers in terms of market value restoration (in comparison to pre-crisis).
Hypothesis: The recent uplift of share prices of selected shared mobility stakeholders shows that the sector will not only survive the current crisis, but could possibly become a long-term winner.