Réseau Citiz is one of the biggest carsharing providers in France. With 40,000 users, a fleet of 1,300 cars and 500 locations all around the country, Citiz is one of the best-established shared mobility operators in France. What makes Citiz unique is their cooperative organization spanning all across the country – as well as the fact they combine multiple modes of mobility on a single platform: from station-based carsharing to free floating and even peer-to-peer carsharing.
Multiple Modes – One Technological Backbone
Citiz was founded with the goal of giving people the chance to give up their private cars. They achieved this by building a cooperative organization and combining different modes of mobility – to meet the demands of all users and mobility needs.
Built on a single technology stack, Citiz started out by offering station-based carsharing, B2B sharing, and fleet management services. They continued to expand this initial offering by also launching free floating carsharing. Available in the same app as their station-based service, it allows users to choose the mobility option best suited to their needs – at any given time. By expanding their offering and adapting to changing mobility needs of users, Citiz is able to continuously address new target groups and an increasingly connected public.
The unique modularity of INVERS telematics, backend, managed global connectivity, software, and API allows covering all modes with a single technology stack possible. Being able to consolidate all modes on a single technological backbone, with telematics and software from a single source, is highly valuable to Citiz. According to Jean-Baptiste Schmider, CEO of Réseau Citiz:
"It's important for us to offer both station-based and free floating carsharing on the same app to allow our users to choose which of the two services is best suited to their needs. Thanks to the tools provided by INVERS, managing our free floating fleet is easy to master."

Creating value with the right technology stack
With more than 1,300 cars in multiple regions of France, Citiz needs a powerful software ecosystem to manage independent local operators and various mobility schemes.
The powerful tariff and billing engine hosted by INVERS allows for various tariff options, different pricing plans, and invoicing per provider. This comes with credit card payment gateways and other functionalities to manage a significant number of vehicles and users. It also allows Citiz to charge various customer groups such as companies, families or cooperatives, and provides invoicing tailored to each provider.
By choosing a proven technology stack, Citiz does not need to worry about the fundamentals of shared mobility – the availability of vehicles and therefore the whole service. The superior reliability of INVERS sharing technology quickly convinced Citiz. It solves the challenging task of coordinating hosting, telematics, software, and the operator's system. By relying on the secure servers hosted by INVERS, Citiz benefits from best-in-class reliability, server availability, and top-level security. With all the fundamentals securely in place, Citiz is able to focus on what really matters to their business: adapting to local mobility culture.
Adapting to local mobility culture
From day one, Citiz aimed at building a service that is rooted locally to truly differentiate their offering from competitors. INVERS technology provides them with the right tools to customize its operation to fit any local mobility culture. The open API of the INVERS tech stack allows Citiz to integrate their service with offerings of local mobility partners and MaaS (Mobility-as-a-service) providers. Just one example: the app Compte Mobilité in Mulhouse integrates the city's public transportation system and Citiz' carsharing service on the same app. With only one account, users can ride a bus, tram or bicycle as well as find and reserve a car by Citiz.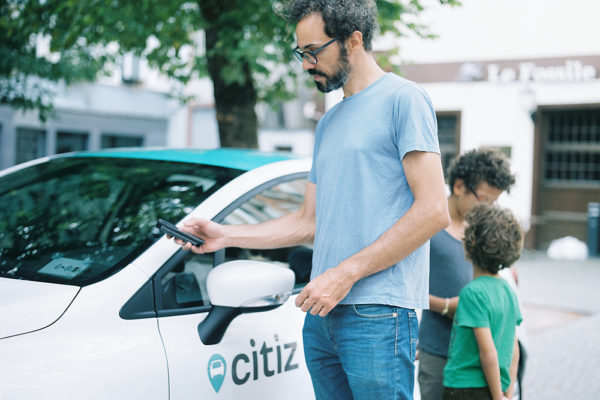 The open API of Shared Mobility OS allows for nearly unlimited customization. It is well-documented and fast and easy to integrate. It enabled Citiz to build and integrate their own custom app as well as tools to cover the very specific needs of an operator whose service is comprised of a network of multiple providers, each covering a different city, spread out all across France.
The comprehensive API enabled them to design a frictionless UX covering the cross-usage between different services, allowing users to easily make trips with cars all over the country – an important factor of differentiation for Citiz.
Having proven its reliability, INVERS sharing technology is the option of choice for Citiz to confidently tackle their expansion plans. INVERS will continue to support Citiz in their plans to expand their service to all French cities with more than 300.000 residents and making cars available within 5 minutes from peoples' locations.