Focusing on Community-Oriented Carsharing
Mobility Development is a US-based company with a portfolio of carsharing operations, providing carsharing to communities and regions that do not have easy access to on-demand transportation in central California's San Joaquin Valley, Chicago, IL, Boston, MA, and Western New York. Their goal is to bring community-controlled shared mobility options to communities that are often overlooked by larger carsharing services. By offering electric vehicles whenever possible and focusing on bringing their service to underserved communities, Mobility Development is proudly filling in equity gaps in shared mobility.

Carsharing for Rural Communities
Mobility Development launched their first rural carsharing project in 2019 under the Miocar name in Kern County and Tulare County in California's San Joaquin Valley. Because of the industrial-scale farming operations and its flat geography, the San Joaquin Valley has some of the worst air quality in the United States. As a result, providing an all-electric fleet of 27 vehicles at several affordable housing complexes made economic and environmental sense. This has helped individuals get familiarized with the benefits of electric vehicles while also helping to improve the air quality.
The best part is that Miocar is available to all residents in the San Joaquin Valley. Miocar often serves as a secondary car for households to get to doctor's appointments, visit family, or make day-long trips. Members of Miocar travel on average 92 miles, over 18 hours, each month. Breaking that down, the median trip distance is around 46 miles with a trip duration of 4 hours.
Understanding and Addressing the Local Mobility Culture
Engaging with the membership base is key to driving utilization and retention for carsharing. To make sure the communities in the San Joaquin Valley knew about Miocar and its services, Mobility Development organized in-person events at many of the affordable housing complexes where Miocars are located. Combined with printed brochures and referral incentives, Miocar has gained traction as a sustainable alternative transportation option in the region.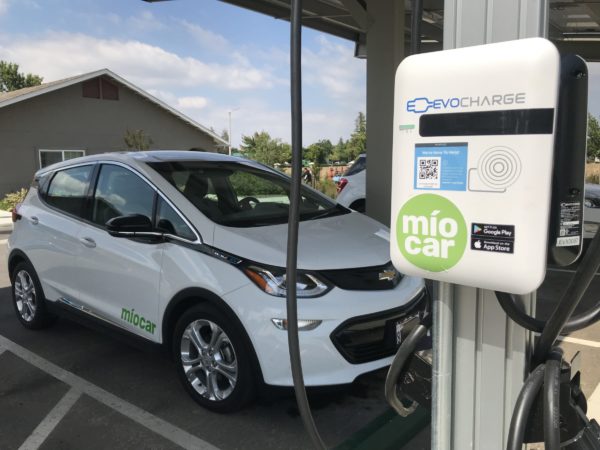 In fact, 33% of members drive to get a Miocar, indicating they see the benefit of using an electric carshare vehicle over their own vehicle. Meanwhile, 45% of members walk and 12% use public transit to get to a Miocar hub. Combine this with the finding that 27% of members travel more than 5 miles to access a Miocar, it seems members really value the mobility freedom Miocar provides.
Shared Mobility for the Gig Economy
One of Mobility Development's other projects, under the name Erive, focuses on giving access to fuel efficient hybrids and Wheelchair Accessible Vehicles (WAV's) that are available by the hour, day, or week to ride-hailing and food delivery drivers in the Chicago area. All Erive rates include insurance, vehicle maintenance and roadside assistance. Many Erive customers live in underserved communities on the south and west side of Chicago and access to Erive vehicles creates opportunities to participate in the gig economy that would not otherwise exist for these drivers.
I would recommend INVERS to any organization looking for state-of-the-art car sharing telematics and connectivity solution.
Reliable Tech is Key for Seamless Operations
The people running Mobility Development are veterans in the carsharing space. Richard Kosmacher, Mobility Development's Managing Director, was head of operations and business development at IGO Carsharing in Chicago until it was acquired by Enterprise Car Share.
Richard continued in a similar role at Enterprise Car Share and then at Zipcar.When it came to selecting a reliable telematics for Mobility Development's projects, Richard went back to the market-tested and proven shared mobility tech solution he knew from INVERS.
"I have known Rudy (North American branch CEO, INVERS) for almost 15 years. INVERS telematics has been the backbone of three different car sharing operations that I have run. I have always been impressed with the service that we have received, from the sales team in Germany to the tech support team in Vancouver."